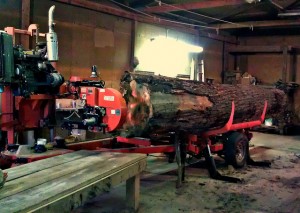 A single tree, downed during a violent storm which struck the Chicago area last summer, will live on in the center of downtown Chicago, reborn into dozens of fresh ideas.
Beginning June 1, Idea Tree: A Storm of Inspiration sprouts in a 5,000-square-foot, street-level gallery within the magnificent Inland Steel Building, listed on the National Register of Historic Places. The exhibit is the culmination of a design competition spearheaded by Sawbridge Studios in collaboration with Illinois Institute of Technology (IIT), and Horigan Urban Forest Products.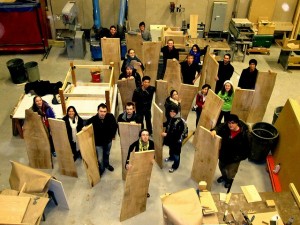 Since January, IIT Architecture Professor Paul Pettigrew has focused on the distinct relationship between architecture and furniture design with students. Using wood from a single, storm-felled tree as core material, provided by Horigan Urban Forest Products, each student began the process of designing and creating a furniture piece, as well as a small accessory item. Along the way, students were mentored by select Sawbridge Studios craftsmen and furniture makers, providing input and suggestions on how to best bring their ideas to life.
A panel of judges comprised of Jan Parr, Editor of Chicago Home + Garden, noted Chicago architect Gunny Harboe, FAIA, President of Harboe Architects, and Lloyd Natof of SL Natof Design (great-grandson of Frank Lloyd Wright) will determine the top pieces, with all 40+ furniture and accessory pieces displayed in the Idea Tree exhibit.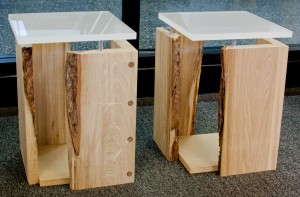 The exhibit is part of the Chicago Loop Alliance's popular "Pop Up Art Loop" program, open Monday through Friday from 10 am – 6 p.m.  June 1 through June 29 at 77 South Dearborn Street, Chicago. Admission is free.
Idea Tree is an on-going effort by Sawbridge Studios to encourage innovation in American artistry and craftsmanship. Headquartered in a converted 1880s livery stable at 1015 Tower Court, Winnetka, Illinois, Sawbridge Studios features the works of over 80 individual, one-of-a-kind craftsmen, artisans and furniture makers from around the country, and has become the largest retail source in the U.S. for handcrafted, American-made furnishings and accessories.