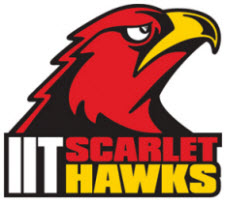 The Illinois Tech men have become the 2012–13 Liberal Arts Conference Champions!
They won the meet, held February 13–16 at Coe College, with a final score of 702; the women's team placed 7th out of 12 with 141 points and only four female swimmers. Senior Eric Grunden had a phenomenal meet with first-place finishes in all of his individual events and placed on every relay. For this, he received the Men's Swimmer of the Meet Award. Also recognized was diving coach Ryan Nelson, who was awarded the Men's Diving Coach of the Meet Award.
Thursday started out strong with a second-place finish by the men's 200 free relay in the finals. Nicole Frantz won the consolation heat, finishing ninth overall. Right behind her was Abby Maze, who finished 11th in the finals heat.  On the men's side, Kevin Boldt finished in sixth place with a personal best. In the 200 IM, Aimee Dewante dropped five seconds in finals and finished second. Eric Grunden won the men's 200 IM while Felipe Bergh got fourth with a season best, followed closely by Arya Mohaimani finishing fifth. Max Ramminger won the 50-free and Billy Bafia jumped five places from 15th place to 10th place. Thursday ended with an exciting 400-medley relay by the men, who ended up winning by just half a second. Diver Ian McNair also won the conference title on the one-meter board with a final score of 482.35.
Friday night kicked off with another first-place finish by our men's 200-medley relay. Shortly after, Mohaimani and Bergh finished first and second in the 400-IM, respectively. Michael Bodzay continued the winning trend with a first-place finish in the 100-fly after a close race. In the 200-free, Maze dropped four seconds, earning herself a seventh-place finish; Frantz finished 12th. Yoni Pruzansky had a great 200-free swim, winning the event after a season best time as Boldt finished seventh. Continuing on into the night, Grunden picked up another first-place medal in the 100-breast, with Ramminger finishing third and Bafia finishing fourth. The night ended with an incredibly close race by the men's 800-relay team, which won by just .04 seconds. McNair also had another great night on the three-meter board, finishing second with a final score of 456.45.
The last day was especially intense, because the Scarlet Hawks went into it only leading by 7 points. Three brave souls attempted the men's 1,650 and all had incredible swims. Bodzay finished third with Boldt right behind him in fifth. Michael Dobben dropped almost a whole minute and ended up with ninth place. Mohaimani continued the trend with a 10-second drop in the 200-back and ended up getting third in finals. Ramminger won the 100-free and Pruzansky finished fourth. Grunden won the 200-breast with a season best time and Bafia had a third place finish. The 200-fly was flooded with Scarlet Hawks with Dewante on the women's side, who received third; Bodzay, who won on men's side; Bergh, who finished third; and Tanner Grieve, who just barely missed his national cut but still finished fifth. The meet ended with an invigorating second-place finish by the men's 400-free relay.
The meet was very fast and very exciting. The Scarlet Hawks picked up several new national qualifiers and sent 13 swimmers and one diver to Oklahoma City on for the NAIA National Championships. The 2013 Swimming and Diving National Team consists of Aimee Dewante, Abby Maze, Nicole Frantz, Maria Behrens, Eric Grunden, Max Ramminger, Michael Bodzay, Kevin Boldt, Yoni Pruzansky, Felipe Bergh, Arya Mohaimani, Billy Bafia, Matt Rosenfeld and Ian McNair.