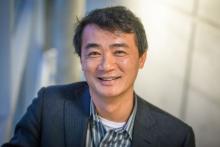 Illinois Tech alumnus J.J. Tang (M.Arch '93), HDR federal program principal in Chicago, has been named a fellow to the Society of Military Engineers (SAME). As a SAME fellow, J.J. joins an elite group of individuals who have contributed to the industry on behalf of The Society and the entire architecture/engineering profession.
Over the past 16 years, his career has focused on the design of federal facilities which are critical to our country's defense and to U.S. security around the world. J.J.'s work has received numerous professional awards. Additionally, he has authored many technical articles in a variety of publications and is a frequent speaker at industry events. His long-standing commitment to SAME encompasses founding the SAME national Architectural Practice Committee (APC) and serving as its first chair from 2012 to 2016. The APC's mission is to bring SAME architects together and to promote architecture within the Department of Defense (DoD) and the federal built environment. He also served on the SAME National Board of Directors until 2016.
The Academy of Fellows will induct Tang during its investiture ceremony scheduled for Wednesday, March 8 in Bethesda, Maryland.