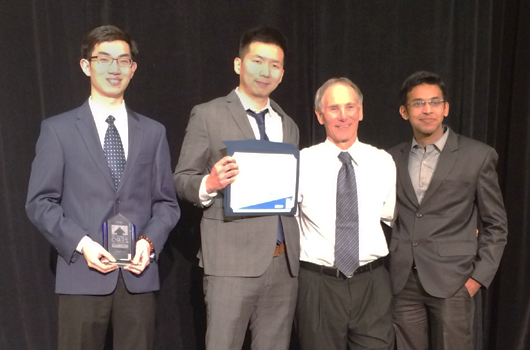 A group of students from Armour College's Civil, Architectural and Environmental Engineering (CAEE) Department and Illinois Tech's College of Architecture recently placed second in the attached housing track at the Race to Zero Student Design Competition. The annual competition is sponsored by the U.S. Department of Energy (DOE) and challenges college students to design zero energy homes. The 2016 competition included 31 teams from 25 institutions and was held at the National Renewable Energy Lab in Golden, Colorado.
The Illinois tech team included several CAEE students including Yun Joon Jung (ARCE, 5th year), Julia del Pino Torres (ARCE, M.Eng. Candidate), Dilip Kumar Erukull, (ARCE, M.Eng. Candidate), Naveen Sudhakaran (ARCE, M.S. Candidate) and Xiaolong Wang (ENVE, Ph.D. Candidate). The faculty mentors for the group are Brent Stephens, assistant professor of architectural engineering and Edoarda Corradi Dell' Acqua, an adjunct faculty member in CAEE.
The team was charged with designing a small multi-family building to achieve net zero energy status. This means the home would produce as much energy on-site via solar PV panels as it would use on an annual basis.

A lot located at the intersection of South Drexel Avenue and 63rd Street, where Chicago's Hyde Park and Woodlawn neighborhoods converge, was chosen as the site for their zero energy building. The integrated team of architects and engineers sought to create a simple architecture that maximizes space for occupants while keeping the units cost effective, energy efficient, and durable enough to withstand Chicago's harsh weather, all while meeting the net-zero energy standard.
Travel for three team members to attend the competition was provided by the Armour College of Engineering Student Funding Program. Each semester engineering students and teams submit proposals requesting funding for varied activities such as special projects, travel to competitions, or attending a conference. Awards for funding are based on merit and proposals are vetted by the Armour College Distinctive Education Council.
Learn more about the team's project by reading their report.