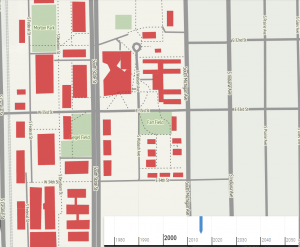 Galvin Library welcomes the Illinois Tech community to experience its new digital endeavor, Building History.
Building History is a digital collection created and curated by the Paul V. Galvin Library. The site shows Illinois Tech's Mies Campus as it is and as it once was, exploring the ways that the campus and the Bronzeville neighborhood around it have changed (and changed each other) since the Armour Institute opened its doors in 1893. An interactive timeline allows users to see how the campus looked in a particular year, contemporary and archival images of campus buildings provide a look at what once was, and how a current building looked amidst its surroundings years ago.
Building History will continue to grow as a result of new campus construction, further historical research, and new features that will provide new ways to understand these buildings, the campus, and the neighborhood around it. If you have suggestions for how we can make the site better, stories to tell about a building, or a correction in our data about the buildings, email us at digitalcollections@iit.edu.