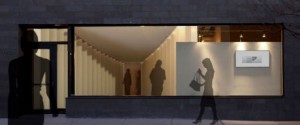 Architecture alumna Charlotte Page and Studio Associate Professor Susan Conger-Austin have teamed up to produce the exhibition Unfolding Space | an architecture of moments, opening January 20 at the Floating World Gallery. The exhibition is a perceptual investigation of place which features work by artist Yozo Hamaguchi.
The exhibit runs January 20 – February 17, 2012, with an opening reception on January 20.
The exhibition is supported by the Richard H. Driehaus Foundation and the IIT College of Architecture.