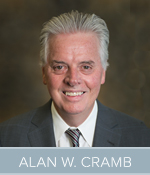 Alan W. Cramb begins his term as the ninth president of Illinois Institute of Technology (Illinois Tech) on August 1, 2015, while at the same time, Frances Bronet succeeds Cramb as provost and senior vice president of academic affairs at the university.
Cramb, who has been provost and senior vice president for academic affairs at Illinois Tech since 2008, was unanimously elected by the Board of Trustees in October 2014. He succeeds John L. Anderson who resigned as president this summer and will remain at the university as a professor of chemical engineering.
Cramb is also the Charles and Lee Finkl Professor of Metallurgical and Materials Engineering at Illinois Tech and received his B.Sc. with Honors in Metallurgy from the University of Strathclyde in Glasgow and his Ph.D. in Metallurgy and Materials Science from the University of Pennsylvania.
Cramb, who is the author of more than 200 publications, holds two patents and is the recipient of many academic and industry honors, including the Benjamin F. Fairless Award of The American Institute of Mining, Metallurgical, and Petroleum Engineers (AIME). In 2014, he was elected to the National Academy of Engineering.
Bronet joins Illinois Tech from the University of Oregon where she held the position of acting provost. She is a distinguished scholar, teacher and researcher as well as an experienced administrator. Bronet earned her Bachelor of Science, Bachelor of Architecture, and Bachelor of Engineering degrees from McGill University. Her Master of Science in Architecture is from Columbia University.