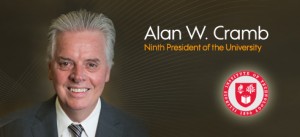 The Board of Trustees of Illinois Institute of Technology unanimously elected Alan W. Cramb as the ninth president of the university. He will succeed John L. Anderson on August 1, 2015.
"As IIT's provost and senior vice president for academic affairs, Alan has been instrumental in moving the university to a new level of academic excellence over the past six years," said Bud Wendorf, chairman of the board. "His leadership has helped IIT increase its undergraduate enrollment to record levels, strengthen its financial position, and attract eminent scholars to our colleges. He also understands the challenges facing higher education. The Board of Trustees believes that he will be an outstanding president and looks forward to working with him in the years ahead."
"I want to thank the selection committee for all of its efforts during the past months," said Wendorf. "The members represented a cross-section of the university community—and their endorsement of Alan was enthusiastic and unanimous."
A national search for a new provost will begin immediately.