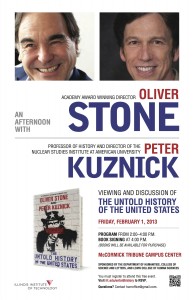 Update: All seating in the MTCC Auditorium has been reserved.  Ample additional seating will be available in the adjacent ballroom, with streaming video of the viewing and discussion.
The IIT Department of Humanities is proud to welcome Academy Award winning director Oliver Stone and Professor of History and Director of the Nuclear Studies Institute at American University Peter Kuznick, creators of The Untold History of the United States, a Showtime documentary series and companion book that "looks back at human events that at the time went under reported, but that crucially shaped America's unique and complex history over the 20th century."
Stone and Kuznick will present the entire third episode of the ten-part series, entitled "The Bomb," followed by a discussion and book signing.  The event will take place starting at 2 pm on Friday, February 1 in the MTCC auditorium.
This event is free and open to the public, and seating in the auditorium is limited and RSVP is required.  The event will also be streamed live to the adjacent MTCC ballroom, with seating in the ballroom available first come, first served.  The book signing will take place in the MTCC Welcome Center, and books will be available for purchase.
Please RSVP here to reserve your seats in the auditorium.  Only two seats may be reserved per person, and you will be required to show your ID when entering.  When all seats are claimed, registration will close, but seating in the ballroom next door will be available on the day of the event.
Questions?  Contact humoffice@gmail.com.
This event is sponsored by the Department of Humanities, College of Science and Letters, and Lewis College of Human Sciences.