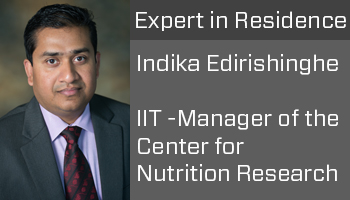 Indika Edirishinge, Ph.D., manager of the Center for Nutrition Research (CNR) at IFSH and associate professor of food science and nutrition, has been selected as an Expert in Residence and his article titled "Functional Fibers and Nutrition Facts Label" appeared on the PROCESS EXPO website.
The Center for Nutrition Research (CNR) at IFSH conducts human nutrition and clinical studies to determine the health benefits of foods and food components in a variety of specialty areas.  CNR substantiates health claims through evidence-based science.  To read more about the CNR, click here.
PROCESS EXPO represents the pinnacle of food technology bringing together the world's most successful food and beverage processors, equipment manufacturers and leaders in the field of academia. It is owned and organized by the Food Processing Suppliers Association (FPSA), a global trade association serving suppliers in the food and beverage industries.
Professionals from all segments of the global food and beverage industry attend the event in search of processing and packaging solutions. The most common job titles of attendees are in engineering, operations, maintenance, production, R&D, quality assurance, marketing and sales, and corporate management. In addition, professionals working for contract manufacturers (co-packers) can build strong relationships with both processing partners and suppliers. For more information about PROCESS EXPO visit www.myprocessexpo.com.