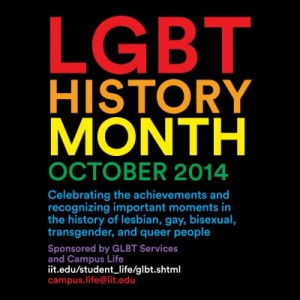 The second week of LGBT History Month, presented by the Office of Campus Life and GLBT Services, is underway at IIT. The month of October is filled with numerous events and activities. The following is a list of events scheduled for this week:
TransGeneration Episode Screening I
Monday, October 6, 12:45 p.m., The Bog (located in the lower level of Hermann Hall)
Sponsor: GLBT Services and Campus Life
Told with compassion and insight, the fascinating eight-episode documentary TransGeneration focuses on the lives of four college students struggling to fit into a society that doesn't understand why they are the way they are–that is, transgendered young adults trapped in bodies that oppose their true selves. Lunch will be served.
Safe on Campus – Student Session
Tuesday, October 7, 6–8 p.m., Siegel Hall, Room 203
Campus Life will be facilitating a two-hour ally training session for interested students. This workshop educates the campus community of the history of LGBTQ persons and helps identify terms and experiences through engaging activities. Sign up in advance here.
Door Signing for National Coming Out Day
Friday, October 10, 11:30 a.m.–1:30 p.m., McCormick Tribune Campus Center (MTCC) Bridge
Campus Life will be on the Bridge with information about LGBT History Month, National Coming Out Day (officially October 11), upcoming events, and an interactive activity for supporting the coming out process and the LGBTQ community.
Standing on Ceremony, the Gay Marriage Plays
Saturday, October 11, 6:30 p.m., The Bog (located in the lower level of Hermann Hall)
Sponsor: 33rd Street Productions
Two little words, and suddenly your whole world changes. Don't miss this evening of short plays with unique takes on the moments before, during and after "I do." Witty, warm and occasionally wacky, these plays are vows to the blessings of equality, the universal challenges of relationships and the often hilarious power of love.
This event reflects the values expressed in IIT's Diversity Statement and is intended to promote diversity at IIT.