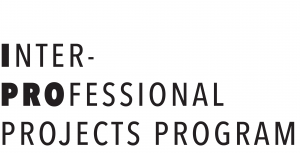 The culmination of the spring semester's Interprofessional Projects (IPRO) Program was held on IPRO Day on April 20 when more than 80 IPRO teams exhibited their semester-long work throughout Hermann Hall. Dedicated panels of workplace professionals, faculty, and graduate students spent the day judging the IPRO projects, and voting on the best exhibits.
The IPRO Program would like to thank all of the students, faculty, Illinois Tech partners, guests, judges, and sponsors for making this the best IPRO Day yet.
Following the exhibit judging and lunch, IPRO Day participants gathered in the Hermann Hall Ballroom for the closing award ceremony, where the winners of the Dean's Choice, and the Top Tracks were announced.
Dean's Choice Awards:
Lewis College of Human Sciences: 5B. Dead Medz: Project Sidelight is an integrated solution to the problem of unsafe medication disposal. Its two-component platform both motivates users to dispose of their unwanted medications and provides a "frictionless" system for them to do so safely. (New)
Stuart School of Business: 6A. Quality Drinking Water: Freshwater is becoming more and more scarce and polluted. Its consumption is increasing with population growth, causing a depletion of traditional sources while at the same time water contamination is becoming more and more severe. Climate change is also playing an important role in affecting drinking water supply due to droughts in several places. To counter these drinking water issues, the project team describes how it can harvest condensate from HVAC systems to create drinking water for human consumption and other applications to create a sustainable solution. (New)
Armour College of Engineering: 7E. Zero Net Energy Community: This project team is designing a zero net energy community in Geneva, Illinois, working with the developer, StreetScape USA. The project is in the design phase, with approvals from the City of Geneva. The project team is reimagining the design of net zero energy communities by considering three intertwined levels of development consideration: the site, the building scale, and the complex operations. (New, in collaboration with Digibilt and StreetScape USA)
School of Architecture: 1E-H: Designed for Silence: Tokyo, Amsterdam, L.A., and Milan.
College of Science: 7G. Energy Audit Challenge: Designing a Net Zero Energy building for the Institute of Cultural Affairs located in Chicago, we are working with a client who is currently in the design phase of obtaining a net zero building. We aim to rethink the design that has been proposed and develop a more efficient, cheaper net zero proposal. (Continuing; ECA Electrical Contractors' of City of Chicago)
School of Applied Technology: 5E. PreventAssure: Pressure ulcers are preventable injuries that are often overlooked. PreventAssure aims to spread and provide preventative measures against pressure ulcers. Our solution includes an app that provides risk assessment, monitoring with sensors, and massaging to reduce ulcer risk. (New)
Track Winners
Track 1: Community Development + Engagement
Winner – 1C. Chinatown Community Walking Tour : Our vision is to contextualize murals within architecture and produce narratives that discuss the role of community murals and architecture in the Latinx community of Pilsen.
Track 2: Student Life
Winner – 2F. Parakeet: Parakeet is the educational video platform for the next generation of students and teachers. (New)
Track 3: STEM: Museums + Education
Winner – 3D. Quantum Leap: This project adds an educational component to the Chicago Design Museum by merging digital and physical tools. We created Qrosity, a web-based platform, and a companion paper version, that guests can use while navigating the museum. (New; Motorola Solutions Foundation; in collaboration with the Chicago Design Museum)
Honorable Mention – 3E. Scarlet Hawks: This team is developing a pre-engagement STEM activity for the Field Museum's Evolving Planet exhibit so that young visitors can learn and retain more information. The activity is BYOF (Bring Your Own Fossil), in which children craft a fossil of their choice and bring it to the exhibit for comparison with real specimens. (New; Motorola Solutions Foundation; The Field Museum)
Track 4: People Moving
Winner – 4A. Solutions to Increase Metra Revenue Through Ridership: Through secondary and primary research, this project team is exploring creative strategies for Metra, Chicago's urban rail commuter network, that address Metra's pressing budget shortfalls without adversely affecting the number of riders or their experience. (New; a collaboration with Metra)
Track 5: Health + Sports
Winner – 5B. Dead Medz: Project Sidelight is an integrated solution to the problem of unsafe medication disposal. Its two-component platform both motivates users to dispose of their unwanted medications and provides a "frictionless" system for them to do so safely. (New)
Track 6: Social Innovation
Winner – 6D. Know Your Flow: Know Your Flow is a feminine hygiene resource that provides monthly after-school workshops where students will be educated on menstrual hygiene and be provided with various tampons/pads through interaction with a product dispenser based on the students' menstrual need (i.e., flow). (New)
Track 7: Sustainable Design for the Future
Winner – 7E. Zero Net Energy Community: This project team is designing a zero net energy community in Geneva, Illinois, working with the developer, StreetScape USA. The project is in the design phase, with approvals from the City of Geneva. The project team is reimagining the design of net zero energy communities by considering three intertwined levels of development consideration: the site, the building scale, and the complex operations. (New, in collaboration with Digibilt and StreetScape USA)
Honorable Mention – 7C. Control + Sensors: This project explores components for a solar panel unit to power a rural single-family home. The team designed an integration for sensors into the solar panel system as well as an app to provide convenient access of the solar panel's relay information. All system components will operate from an Arduino platform. (New)
Track 8: Earth Air Water Fire
Winner – 8E. Earthquakes + Wastewater Injection in Oklahoma: This project develops an understanding of the relationship between wastewater injection and earthquakes in Oklahoma, why it's happening, what its public safety implications are, and what can be done to mitigate it. (New; Motorola Solutions Foundation; In consultation with American Red Cross)
Track 9: Breakthrough Thinking Through Technology
Winner – 9A. Illinois Tech Motorsports: The Illinois Tech Motorsports team has developed a high performance, single-seat Formula-style vehicle as its entry in the SAE International Formula Hybrid Competition this spring. (New)
Honorable Mention – 9E. Conventional Wall Construction Reconsidered: This team is organized in three subgroups to focus on improving different aspects of conventional residential wall construction: structural, insulation, and a combination of the two. (Continuing)
Track 10: Reduce Reuse Recycle – 10E. Modern Papyrus: This project is focused on creating paper out of recycled clothing/fabric. The paper represents different qualities (100% cotton, 70%cotton/30%poly, etc) that affects absorbency tests, tear tests, etc.; and the paper has various uses (paper towels, writing paper, etc.). (New)
Honorable Mention- 10D. De-fabric-ation: This project is focused on developing novel ways to recover and reuse fibers from discarded clothing. The team explored both chemical and mechanical methods for breaking down and repurposing used fibers. (New)
Track 11: Robots + Sensors – 11D. Automating the Growing Process: The team has developed a viable solution for automating the growing process associated with vertical farming through two robot assistants, a camera-holding robot arm and racks adjustable to accommodate the dynamics of the height of growing plants. (New)