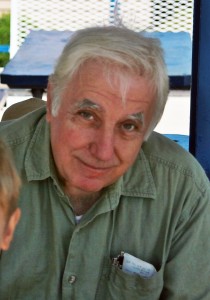 A tree dedication honoring IIT College of Architecture Associate Dean Peter Beltemacchi, who who passed away in August 2011, will be held at 3 pm on Thursday, June 7 in the Carr Chapel Memorial Grove, with reception following in Crown Hall.  All members of the IIT community are invited to attend.
Beltemacchi dedicated nearly fifty years of his life to the IIT College of Architecture, joining the faculty in 1967, shortly after completing his bachelor's and master's degrees in city and regional planning at IIT. Over four and a half decades, he was integral to the evolution and success of the college, serving as associate dean from 1994 to 2011 and director of undergraduate programs from 2003 to 2009, Beltemacchi oversaw a significant expansion of the tenure-track faculty at the college and made significant contributions to the development of the college's pedagogical principles in the changing world of contemporary architecture.
Beltemacchi was a very active member of the IIT community in his many years with the university, as an award-winning teacher and an active contributor to college and university governance. He served as chair of the IIT Faculty Senate and chaired numerous academic committees, as chair of the College of Architecture faculty appointment and retention committee, helping to build a new generation of tenured faculty, as chair of the curriculum committee at a time of substantial re-organization, and as chair of the Department of City and Regional Planning.  Beltemacchi was honored with a Lifetime Achievement Award at the 2012 IIT Alumni Awards in April.
The family has established a scholarship fund in Peter's name. For more information, contact Rob Buckla at rbuckla@iit.edu or 312.567.5011.