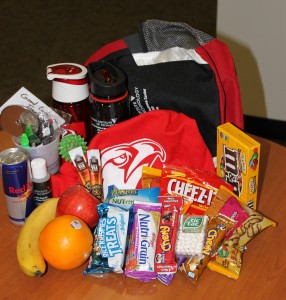 This is your last chance to enter! Winners will be chosen on Wednesday evening, November 21, and notified over the Thanksgiving holiday.
As you look ahead to Study Week and Finals Week, working long hours around the clock, do you anticipate long sleepless nights with no time to eat or do the laundry? Do you worry about finding a seat at Galvin Library during finals? All you have to do is "like" Galvin Library's Facebook page and you will be entered for a chance to win one of four Finals Week Survival Packs!*
The packs have been assembled by Paul V. Galvin Library, with additional items donated by other university offices on campus. Each pack contains:
• Snacks
• Energy drinks
• Reusable water bottles
• Scarlet Hawk T-Shirt
• Pens, Post-it notes, hand sanitizer, and more
• Best of all, the four lucky winners of the Finals Week Survival Packs will be able to designate and reserve a guaranteed spot to study at Galvin Library!
*Small print to win a Finals Week Survival Pack:
• You must "like us" on Facebook to enter
• You must be an IIT student to win
• You can reserve any seat of your choosing (study carrel, table, bean bag) just once
• Seat has to be reserved 24 hours before use
Thanks to the Office of Undergraduate Admission, the Office of Campus Energy and Sustainability, the Student Health and Wellness Center, and the Office of Campus Life for contributions to the Finals Week Survival Packs.