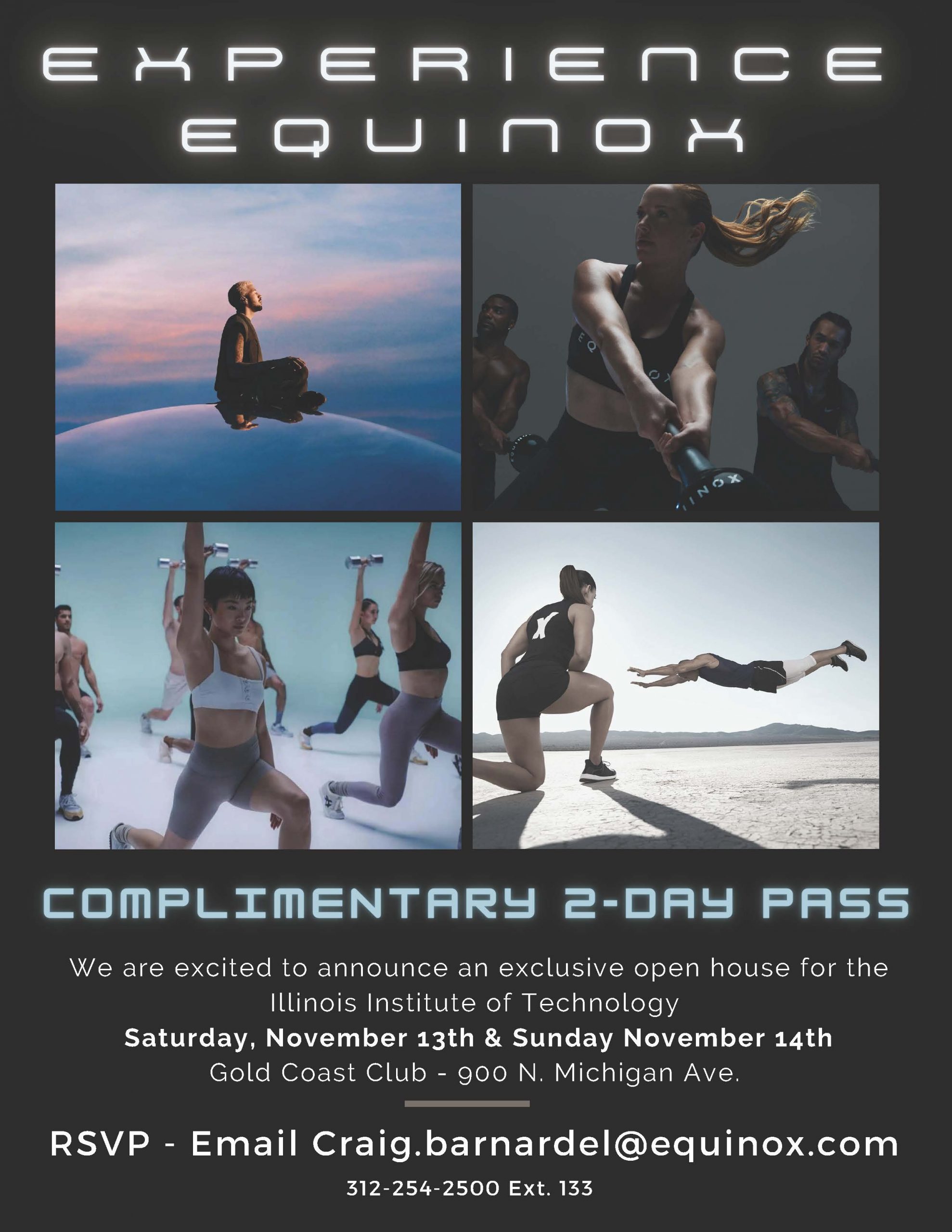 Equinox is proud to partner with The Illinois Institute of Technology to provide its faculty, staff, students, and alumni with the best in luxury fitness and high-performance living.  
For 30 years, Equinox has been recognized as the leader in upscale fitness clubs, where science of fitness meets the art of living. We accomplish that by taking an integrative approach to health by including movement, nutrition, and regeneration to maximize the full quality of life.  What truly separates us is our incredible talent, unique programming, and pristine, immaculate Clubs.  
Today, we are excited to announce an exclusive open house for the Illinois Institute of Technology. This once-a-year opportunity will take place on Saturday, November 13 & Sunday November 14 at our Gold Coast Club located at 900 N. Michigan Ave. in Chicago.

RSVP today to customize the start of your high-performance athletic driven lifestyle (information on how to RSVP is below).

Option 1 – Choose your favorite Class  
Our classes are designed to perfectly blend substance and style. Equinox creates unrivaled fitness experiences that evolve over time to challenge your body and mind. 
Cycling 

 

Running 

 

Yoga 

 

Athletic Training 

 

Barre 

 

Pilates 

 

Dance 

 

Boxing 

 

Pool 

Sculpt 



Option 2 – Schedule a complimentary personal training session 
Equinox is the authority in personal training with the reputation for providing the best personal training program in the industry. Choose a 60 min one-on-one session customized session that will leave you educated, motivated, and equipped with the tools to meet your goals. 

Option 3 – Request a complimentary 2-day trial pass  
Come in and enjoy our 30,000 Sq ft, 2 1'2 level state of the art club on your own time. Choose one of our 2 cardio or 2 strength floors to get your heart & muscles pumping. Take a swim in our Junior Winter Olympic sized pool, sweat it out in our steam room and enjoy the Kiehl's products and eucalyptus towel services available to members post workout.   
To RSVP, please email Craig Barnard-El, Equinox Gold Coast Sales Director – craig.barnardel@equinox.com. 
For additional information, please contact Viktoria Rill in Human Resources at vrill@iit.edu, or x73353.