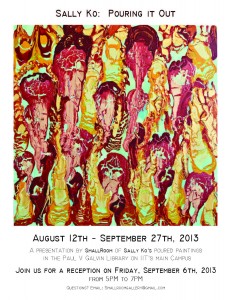 SmallRoom's new show of the year features Sally Ko, a local artist based out of the Zhou B Art Center on 35th and Morgan streets.
You can visit the show, Sally Ko: Pouring it Out, in the Kemper Room, located on the second floor of Paul V. Galvin Library from August 12–September 29. There will be a reception on Friday, September 6 from 5:00–7:00 pm.
This event reflects the values expressed in IIT's Diversity Statement and is intended to promote diversity at IIT.