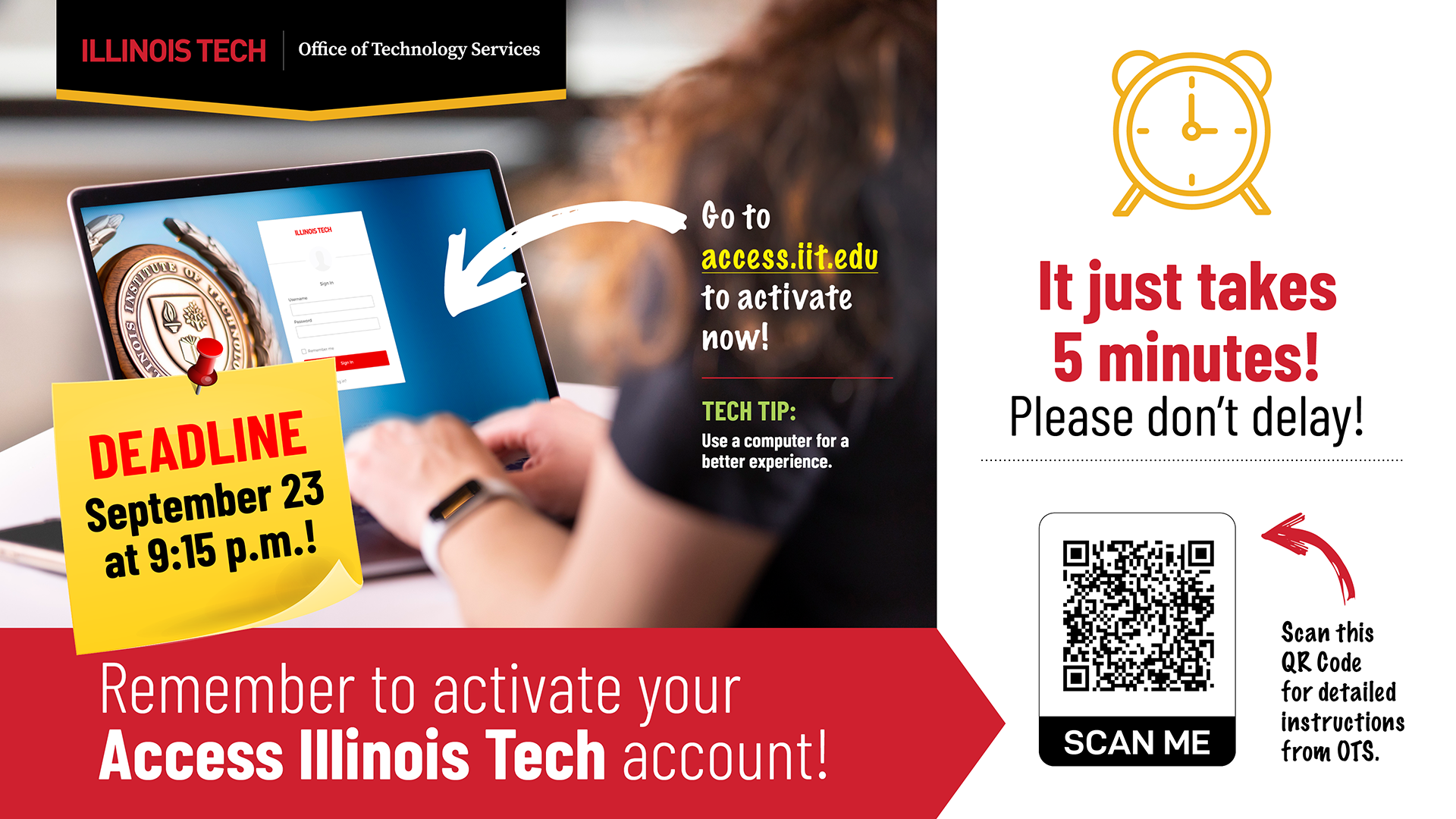 The Office of Technology Services (OTS) is approaching Phase 2 of deploying Illinois Tech's identity and access management (IAM) solution, Access Illinois Tech, powered by Okta. Access Illinois Tech will serve as a secure gateway to accessing all of our university applications over time. This is a significant step toward keeping the university's data and your information safe. Activate your Access Illinois Tech before September 23 to continue access to your email and applications!
Phase 1 Recap: OTS asked students, faculty, and staff to activate your Access Illinois Tech account and set up your multifactor authentication (MFA) preferences, add a secondary personal email for account recovery, and complete a few other steps.
Phase 2 – Begins September 23, 2022 at 9:15 p.m.
In Phase 2 of this deployment, OTS will move the entire Google Workspace — Gmail, Google Docs, Google Drive, Chat, etc. — into Access Illinois Tech, along with other applications you use every day. (More and more applications will be transitioned over time.) This transition will begin on September 23, 2022 at 9:15 p.m.
How Will This Impact Me?
You will need to activate your Access Illinois Tech account before you access your web-based university email or any of the other transitioned applications. Please see the list of applications here.
I Have Already Activated My Access Illinois Tech Account. Now What?
If you have already activated your account, great! There is no further action you need to take at this time. Please note: After September 23, the web-based applications listed here (including your email) will appear on the dashboard in Access Illinois Tech. Although the listed applications will temporarily still appear in the my.iit.edu portal as well, you will need to be signed into Access Illinois Tech before you can get to them.
What if I Haven't Activated My Access Illinois Tech Account Yet?  
Please click here to activate your account now; the link will redirect you to https://iit.okta.com, since Access Illinois Tech is powered by Okta. You can see complete instructions on how to activate your account on the OTS website. After September 23 at 9:15 p.m., web-based access to Gmail, other Google Workspace apps, and the transitioned applications will not be available until you have activated (!) and signed in to your Access Illinois Tech account. (Email that is configured on third-party applications, such as the email app on your cell phone, will continue to function.)
Starting Monday, September 19, 2022, if you haven't yet activated your Access Illinois Tech account, you will begin receiving daily reminders to do so. Please take 5 minutes and activate your account now!