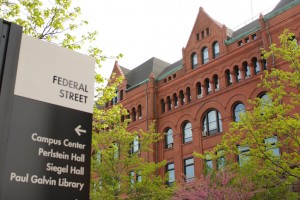 With the move of Marketing and Communications this week, all the offices in Main Building have now relocated to new locations on campus. You will find information on the offices' new locations, along with website links and phone numbers, here:
Student Accounting, Financial Aid and Registrar
For most matters, you can find answers at the One Stop in the MTCC (next to The Commons). If you need to see a financial aid counselor or submit a payment visit the Student Accounting office located at Tech Central, 4th floor or the Financial Aid office on the 2nd floor of IIT Tower.
One Stop in the MTCC
3201 South State Street
312.567.3810
onestop@iit.edu
Student Accounting
Tech Central, 4th Floor
3424 South State Street
312.567.3794
Financial Aid
IIT Tower, 2nd Floor
10 West 35th, Ste. 2C8-1
312.567.7219
Undergraduate Academic Affairs
IIT Tower, 2nd Floor
10 West 35th, Ste. 2F9-1
312.567.3300
International Center
MTCC, Room 203
3201 South State Street
312.567.3680
Graduate College, Research, and Graduate Academic Affairs
IIT Tower, 7th Floor
10 West 35th, Ste. 7D7-1
312.567.3024
Marketing & Communications
IIT Tower, 4th Floor
10 West 35th, Ste. 4D7-1
312.567.5777
Human Resources
IIT Tower, 9th Floor
10 West 35th, Ste. 9F8-1
312.567.3318
Payroll
Tech Central, 4th Floor
3424 South State Street
312.567.3336
Purchasing
Tech Central, 4th Floor
3424 South State Street
312.567.3328
Controller
Tech Central, 4th Floor
3424 South State Street
312.567.3331
Grant and Contract Accounting
Tech Central, 4th Floor
3424 South State Street
312.567.3337
Accounts Payable
Tech Central, 4th Floor
3424 South State Street
312.567.3331